Phoenix Bios Password Generator Download
Check for the Latest BIOS Updates
BIOSAgentPlus safely checks to see if a newer BIOS Update is available for your computer and provides instant access to your detailed BIOS and driver report.
Please activate JavaScript in your browser !
Any amateur computer technician should know how to reset BIOS passwords that can be setup from within the BIOS because there are times when they need access to change some configuration options such as the boot order or disable functions like AHCI mode.If a password has been set, you cannot enter the BIOS or sometimes even boot the computer itself unless you know it, and this can be a real. This Video will show How to Crack a BIOS Password Without disassembling the Laptop or PC.All BrandsBIOS: Basic Input Output System.Master Password Generator. Re: Dell bios / hdd master password generator. Phoenix BIOS master password Generator.and this one is for Phoenix Bios'. Navya Serial Video Songs Download. Thank you for this download - I was able to use it successfully - the family I was able to assist is. Take that date & enter it in the BIOS Master Password Generator below.
BIOS Master- and Setup-Passwords
Delete BIOS-Passwords on PC-Mainboards
Delete BIOS-Passwords on Notebooks
BIOS-Setup-Password via Software
BIOS Master-Passwords
Delete BIOS-Boot Password
Delete BIOS-Setup Password
Keystrokes to Enter the BIOS-Setup
Clear the CMOS of your PC-Mainboard if you want to reset the BIOS-Boot password or BIOS-Setup password:
CMOS-Reset instructions for PC-Mainboards and Notebooks
Delete BIOS-Boot Password
Delete BIOS-Setup Password
Delete BIOS-Passwords on Notebooks
Don't clear the CMOS of your Notebook, because it will not reset any BIOS-Boot password or BIOS-Setup password! Notebooks have better theft protections like an additional (tiny, hidden) IC-integrated module that contains the password. Some manufacturers store the password on a hidden hard disk sector. So, the only solution is a direct contact to the manufacturer's support, where they proof that you are the legal owner of the notebook. Depending on the manufacturer, you have to send him the serial number of the notebook and you'll get (in many cases free of charge) an individual master password to unlock the notebook. Some other manufacturers even offer only the replacement of the notebook's mainboard - which will be really expensive!
Currently some dubious websites offer to remove the password for money. Be careful, otherwise you'll lose your money!
You can download the free, small program ctbios15.zip from the german Computermagazine c't. Ctbios shows the password and some other interesting things about your BIOS. (great tip!)
BIOS Master-Passwords
Lost your BIOS-Setup password or BIOS-Boot password? You can try one of the following Master passwords:
The following Master passwords may be work only on very old Mainboards and Notebooks which are build before the year ~ 2005. Newer notebooks don't have any Master passwords, or they have a special Master password which was generated by the notebook's serial number.
AWARD Master passwords
01322222
bios
lkw peter
1EAAh
BIOS
lkwpeter
256256
biostar
PASSWORD
589589
biosstar
SER
589721
CONCAT
setup
?award
CONDO
SKY_FOX
admin
condo
SWITCHES_SW
alfarome
djonet
Sxyz
aLLy
efmukl
SZYX
aPAf
g6PJ
t0ch88
award
h6BB
t0ch20x
award_?
HELGA-S
ttptha
award.sw
HEWITT RAND
TTPTHA
AWARD SW
HLT
TzqF
AWARD_SW
j09F
wodj
AWARD_PW
j256
ZAAADA
award_ps
j262
zbaaaca
AWARD?SW
j322
zjaaadc
awkward
j64
zjaaade
AMI Master passwords
ami
amiami
CMOSPWD
amidecod
AMI.KEY
KILLCMOS
amipswd
AMISETUP
589589
AMIPSWD
AMI?SW
ami.kez
AMI
AMI!SW
ami°
A.M.I.
AMI_SW
helgasss
aammii
bios310
HEWITT RAND
AMI~
BIOSPASS
Master passwords from different Manufacturers
Advance Integration: Advance
Amptron: Polrty
AST: SnuFG5
Biostar: Biostar / Q54arwms
Compaq:compaq
Concord: last
CTX International: CTX_123
CyberMax: Congress
Daytek+Daewoo:Daytec/Daewuu
DELL: DELL
Digital Equipment: komprie
Enox: xo11nE
Epox: central
Freetech: Posterie
HP Vectra Serie: hewlpack
IBM: IBM / MBIUO / sertafu
IBMAptiva: press both mousekeys
Iwill: iwill
Jet Way: spoom1
Joss Techn.: 57gbz6 / Technolgi
MachSpeed: sp99dd
Magic-Pro: prost
Megastar: Star
Micron: sldkj754 / xyzall
Micronics: dn_04rjc
M Technology: mMmM
Nimble: xdfk9874t3
Packard Bell: Bell9
QDI: QDI
Quantex: teX1 / xljlbj
Research: Col2ogro2
Shuttle: Spacve
Siemens Nixdorf: SKY_FOX
Speedeasy: lesarot1
SuperMicro: ksdjfg934t
Tiny: Tiny
TMC: BIGO
Toshiba:24Banc81/Toshiba/toshy99
ToshibaLaptops: press left Shiftkey
Vextrec Technology: Vextrec
Vobis: merlin
WIMBIOS v2.10: Compleri
Zenith: 3098z / Zenith
Zeos: zeosx
If you have forgotten your BIOS Boot-Password, have a look into your mainboard manual, or after opening your PC, onto your mainboard. Many mainboards have a JUMPER or SWITCH to clear the CMOS. This Jumper is often named like: 'RTC_CLEAR' , 'CLEAR CMOS' , 'CLRCMOS' , 'CLRCMS'. His position is often near by the mainboard battery.
Attention: All hardware settings (harddisk-, bootsequence,-...settings) will be deleted! At least, you have to re-insert them again.
See: CMOS-Reset instructions for PC-Mainboards and Notebooks
Delete BIOS-Setup Password
If you can't enter the Setup of your BIOS, you need a DOS-Bootdisk and one of the following MS-DOS Files: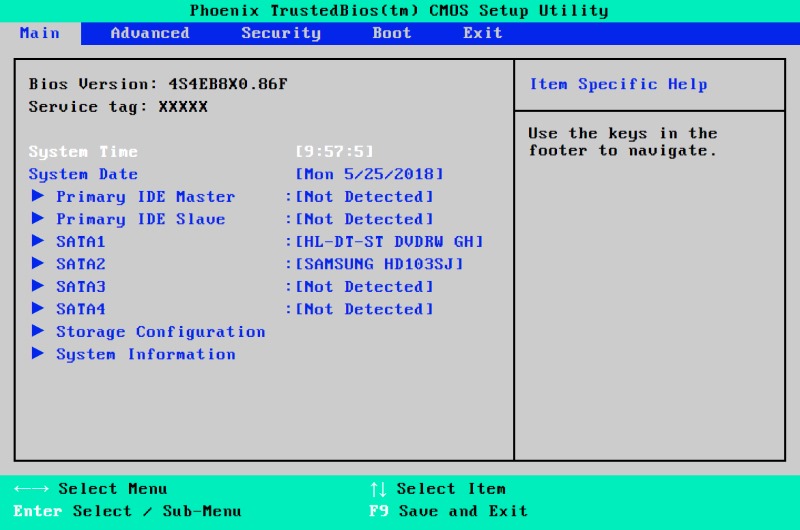 Filename
Sourcecode I
Sourcecode II
DEBUG.EXE
- o 70 2E
- o 71 FF
- Q
- o 70 17
- o 71 17
- Q
QBASIC.EXE

- 10 OUT &H70,17
- 20 OUT &H71,0

- 10 OUT &H70,&H17
- 20 OUT &H71,&H17
Start the file an insert the sourcecode line by line.
Different keystrokes to enter the BIOS-Setup:
| | |
| --- | --- |
| Keystrokes | Manufacturer |
| Del | AMI, AWARD |
| ESC | Toshiba |
| F1 | Toshiba, Phoenix and later models from Late model PS/1 Value Point and 330s |
| F2 | NEC, Dell |
| F10 | Compaq |
| Ins | IBM PS/2s |
| twice Reset | Dell |
| Alt+Return | Dell |
| Alt+'?' | some PS/2-Models |
| Ctrl+Esc | General |
| Ctrl+Ins | some PS/2-Models |
| Ctrl+Alt+Esc | AST Advantage, Award, Tandon |
| Ctrl+Alt+'+' | General |
| Ctrl+Alt+S | Phoenix |
| Ctrl+Alt+Ins | Zenith, Phoenix |
| Ctrl+S | Phoenix |
| Ctrl+Shift+Esc | Tandon 386er |
| Ctrl+Shift+Alt +Del(num.Keypad) | Olivetti PC Pro |
| Setupdisk | Compaq, Epson, IBM, Toshiba, 286er |
Most wanted
Favorite items
CMOS-Battery CR2032
ACER ASPIRE T180
SMD-PLCC-32 Socket
ASUS P5W DH DELUXE
ASROCK Z77 EXTREME4
ASUS M5A78L-M/USB3
internal Speaker
ACER ASPIRE E380
ASUS P8P67
ASUS Z9PE-D8 WS
ASUS M5A99X EVO
ASUS M4A89GTD PRO/USB3
ASROCK P67 PRO3
ASUS CROSSHAIR IV FORMULA
ASUS M2N-SLI DELUXE
ASUS CROSSHAIR V FORMULA
ASROCK 970 EXTREME4
ASUS P8H67-M PRO REV.3.0
ASROCK 870 EXTREME3 R2.0
ACER ASPIRE L5100

New BIOS-Chips
GIGABYTE K8NSNXP
ASUS CROSSHAIR V FORMULA-Z
ASROCK P67 PRO3
ASUS M5A97 PRO
ASUS P7P55D-E PREMIUM
ASROCK Z77E-ITX
BIOSTAR G41-M7 V6.X
ASROCK 990FX EXTREME9
ASROCK QC5000-ITX/PH
internal Speaker

CmosPwd decrypts password stored in cmos used to access BIOS SETUP. Works with the following BIOSes. ACER/IBM BIOS. AMI BIOS. AMI WinBIOS 2.5. Award 4.5x/4.6x/6.0. Compaq (1992).
Compaq (New version). IBM (PS/2, Activa, Thinkpad). Packard Bell. Phoenix 1.00.09.AC0 (1994), a486 1.03, 1.04, 1.10 A03, 4.05 rev 1.02.943, 4.06 rev 1.13.1107. Phoenix 4 release 6 (User). Gateway Solo - Phoenix 4.0 release 6. Toshiba.
Sep 9, 2015 - Most personal computers don't have BIOS passwords because the. Reviews Free Downloads. I tried the Generic Phoenix password on my laptop and it worked! Without getting too technical, the reason it worked is because the password generated by the website and my password generate the same. BIOS Password Recovery for Laptops. Quick and easy way to recover BIOS passwords on laptops. Based on research by Dogbert and Asyncritus.
Zenith AMI With CmosPwd, you can also backup, restore and erase/kill cmos. Contents. CmosPwd Download CmosPwd is free, it's distributed under GPL Cmos password recovery tools 5.0. DOS/Windows 9x and Windows NT/W2K/XP/2003/. Versions,. Source only CmosPwd works and compiles under.
Dos-Win9x. Windows NT/W2K/XP/2003/. Linux. FreeBSD and NetBSD CmosPwd Development To get information about new CmosPwd release or development, subscribe to. Hints for various manufacturers Unlock code generator Check it contains programs to unlock some. Compaq. Dell.
Fujitsu-Siemens. Hewlett-Packard. Insyde H20. Phoenix. Sony. Samsung EEPROM on laptops On laptops, the password is usually stored in an eeprom on the motherboard and not in the cmos. You need an eeprom programmer/eeprom reader (electronic device) to retrieve the password.
If you erase the cmos (ie. Cmospwd /k) and if the password is really stored in an eeprom, you won't be able to boot anymore. You can get/buy eeprom programmer in electronic shops or labs, you need another PC to use it. You can desolder the eeprom with hot air or you can try to 'clip' the eeprom. With the eeprom programmer, backup your eeprom and run cmospwd /d /l eeprombackup. If you don't see the password, you can try to fill the eeprom with zero or FF, don't forget the reset the cmos.
Bios Master Key Generator
Acer. Acer 630: eeprom 93c56?. Acer Aspire 1522: Under the keyboard, search for switch SW1 on the left of the fan jack, switch the pin 1 to on, turn on the notebook, press F2 and set a new supervisor password, turn off and switch back SW1. Acer Travelmate 280: search for SW1 switch on the motherboard and enable the switch 3 to disable the password request. Acer Travelmate 6592g: Disconnect the yellow cmos battery (near the DVD bay but hard to access) and reconnect it after a few hours, hold F2 during first boot. Award BIOS. AWARD 4.50 have a backdoor, a generic password: AWARDSW.
SOYO motherboard have 'SYMB' as master password for Award 4.51. CmosPwd give equivalent passwords for Award BIOS, not original one. Dell The official method is to contact Dell Technical Support. Dell Technical Support will request the Service Tag and Express Service Code from the bottom of the Latitude. If the current user is not the original Latitude owner, Dell will from the original owner with only the Service Tag and Express Service Code from the tag on the laptop.
. Software Description. Ongoing Research Project.
Additional Resources Like any reasonably developed system, HDD and BIOS systems on laptops/notebooks need enormous protection. Systems that are using password generators in order to protect their security are using different algorithms.
Algorithms can vary based on their difficulty level. Current generation laptops require good password generators in order to make their systems as safe as possible. Majority of all laptops are using master passwords (which are unique in each laptop) in order to protect their systems. In order to penetrate the BIOS system one should find a way to disable BIOS passwords. Sometimes it can be very important for the laptop users to know the master passwords of their laptops. However the algorithms to figure out the password are not available to every user.
When a laptop is locked with password, a checksum of that password is stored in FlashROM - this is a chip on the mainboard of the device which also contains the BIOS code and other settings, e.g. Memory timings. For most brands, this checksum is displayed after entering an invalid password for the third time. The dramatic 'System Disabled' message is just scare tactics: when you remove all power from the laptop and reboot it, it will work just as before. From such a checksum (also called 'hash'), valid passwords can be found by means of brute-forcing. The bypass mechanisms of other vendors work by showing a number to the user from which a master password can be derived. This password is usually a sequence of numbers generated randomly.
Phoenix Bios Password Generator
Free Password Generator Download
This software generates and calculates the Master Passwords of HDD and BIOS systems of ACER, Dell and Sony VAIO laptops according to their license numbers. The program takes the license numbers of those laptops(which are unique for every laptop) as an input and gives themaster codes of HDD and BIOS as an output. The algorithm was figured out by multiple testing and collecting data from different Internet sources. This software has been written. To try the beta version of the application you can download Password Recovert Tool 1.0.exe file from this repo. To read about the algorithms that different companies used for protecting their Master Passwords download Description.pdf file. I started researching the mechanics of BIOS and HDD password in current generation laptops in 2012.
Password Generator Master Password
My goal was to create a set of master password generators to disable Basic Input /Output System (BIOS) passwords. After understanging the general algorithm for generating Master Passwords I tried to test them from collected data from different Internet sources. Generating Master Passwords of different laptops is a constantly developing research field. I originally started my research after reading Dogbert's blog about Master Passwords of HDD and BIOS systems(look at the 'Technical Doc' section). Some groups even suggest for paid services for cracking those passwords(you can find one website if you click on 'Tech Support' section).
However my goal was to make this field of research more popular and through open-source development make widely advanced functional tools. For further suggestions and comments you can contact me at: rafamian at berkeley.edu. Special thanks to Junyu Wang, Parth Mehrotra, Alex Kumamoto for their feedbacks and suggestions. Technical Doc Tech Support Project Readme Contributing !i1 !i2 !i3 !i4 You are welcome to contribute to this research project. Look at existing code to get a good feel for the patterns we use. Please do create a new issue on GitHub if you think you've found a bug though!
Phoenix Bios Master Password Generator Download
If you have a more deeply-rooted problem with how the program is built or some of the stylistic decisions made in the code, it's best to create an issue before putting the effort into a pull request. The same goes for new features - it might be best to check the project's direction, existing pull requests, and currently open and closed issues first. Here's some examples of things you might want to make a pull request for:. New fixes,. New tests,. Bugfixes,.
Inefficient blocks of code. BIOS password and locked hard disk recovery -.
Dogbert's blog -. How to remove, clear, reveal, unlock or reset BIOS security password.